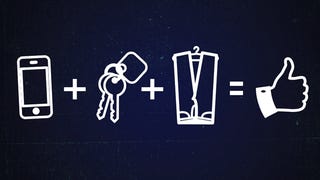 Once you make that transformation from fledgling hot mess to the type of superhuman that even the ultimate #GrownWoman (you know the one, #Surfbort) would give her seal of approval, you realize that it's always possible to do better. That's the thing about growing up — it never stops. Luckily you don't need a powerhouse production team to get your life together, you just need to swoop some of the newest tech to help you be your best. The gadgets below will help upgrade you into the ultimate version of yourself so you can live like a boss.
This post is a sponsored collaboration between SWASH™ brand and Studio@Gawker.
We've all been there: you wake up the morning of a big meeting and your favorite, luckiest shirt is totally wrinkled. Remembering to go to the dry cleaner can fall by the wayside when you're busy killing it at life, but SWASH™, the new in-home clothing care system from Procter & Gamble and Whirlpool makes the dreaded trip to the dry cleaner a thing of the past. The SWASH system refreshes and removes light wrinkles in just 10 minutes so your garments can become fresh right at home. No more rushing to the dry cleaners on a Saturday instead of working on that passion project.
For the multitasking, always-exploring, candles-burning-at-both ends type of overachiever, meals can be the last thing on the agenda, but Sprig, a tasty little app that delivers carefully designed meals from Google's former executive chef, takes all the grunt work out of making a delicious, locally-sourced meal. With three choices for each mealtime, Sprig simplifies your options so you can go with your gut and use your brain to focus on the more important things at hand. So far Sprig is just in the Bay Area, but there are lots of options, like Blue Apron and Plated, that deliver nationally.
Even the most high-achieving wunderkind needs to unwind once in awhile, but with so much going when you have a busy, social lifestyle, even kicking your feet up can sometimes become a task. Luckily, thanks to the power of algorithms, our gadgets are learning how help us do everything, even chilling out. Cone, a beautifully designed wireless speaker, uses an algorithm to figure out what you like and predict the music you want to listen to. Simply give the base a spin to hear a song that suits your taste. All the taste-making is left to the device, so you can sit back and enjoy the music.
This life-logging camera is a small, square, brooch-like tile worn clipped on the front of your shirt or jacket. With a small hole in the corner for a camera lens, it takes photos every 30 seconds — all day long. It's like having photographic memory so you can enjoy the moment and not fixate on capturing constantly or worry about missing that magic milestone.
The average person misplaces 3,000 things a year and spends 60 hours searching for them, so for anyone who has angrily muttered the mantra "keys, wallet, phone" before leaving the apartment, Tile is going to revolutionize the out-the-door routine forever. When you pair the little square device with an item like your keys, you're really connecting it wirelessly to your phone. That way, when your stuff goes into hiding, Tile is like the reliable digital search team you've been looking for and alerts an app on your phone, saving you time so you can breeze out the door.
From the data genius behind the Feltron Report and the Facebook timeline, Reporter is an app that takes the quantified self to a whole new level. The app gathers up all the bits of the "seemingly immeasurable aspects of daily life" and tracks them daily to create a data rich portrait of you. The app correlates data to draw connections between some of your most habitual behaviors: how much coffee did you drink on days when you were happiest? How clean is your home when you have more lovers? Through quizzes, the app easily collects data about you so you can go on with your daily life. Meanwhile, the Reporter becomes your personal analyst so you can figure out all the things that make you tick, optimizing your whole self.
See how much more bossy you can be? To learn how the SWASH in-home clothing care system can help you reach peak productivity, head here.
Kristina Loring is an independent radio producer, writer, and digital strategist living in San Francisco. She loves exploring the hidden design in cities and riding a bicycle away from tech epicenters toward the sea.